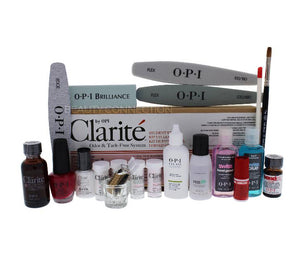 NEW OPI Clarite STUDENT KIT Acrylic Nail Liquid Powder Kit - ODOR & TACK FREE
OPI Clarite STUDENT KIT Acrylic Nail Liquid Powder Kit
100% Authentic | Brand New | USA Seller
Brand NEW in box OPI Clarite STUDENT KIT Acrylic Nail Liquid Powder Kit - Everything you need for acrylic nails! - ODOR & TACK FREE. 100% Authentic and sealed. Made & Shipped in USA

22 items include:
Bondex .25oz


Clarité Curing Resin .25 oz

Clarité Liquid Net 1 oz

Clarité Sheer Pink Powder .21 oz

Clarité Simply Natural Powder .21 oz 

Clarité Spa White Powder .21 oz

Clarité Crystal Clear Powder .21 oz

Swiss Blue Antibacterial 

Liquid Hand Soap - 1oz 

Swiss Guard Antiseptic Handwash Gel - 1oz. 

N.A.S. 99 -1 oz

Nail Adhesive .10 oz

Linear Nail Tips - 20 Assorted Tips 

Avoplex Moisture Replenishing Lotion 1 oz 

Avoplex Exfoliating Cuticle Treatment - 1 oz. 

5F Flat Red Sable Brush 

1 Reusable Cuticle Stick 

1 Reusable Nail Forms 

1 Glass Dappen Dish 

1 OPI Nail Lacquer 

1 Brilliance Block 

1 Edge 150 File 

1 Edge 180 File 

1 Nail Lacquer Color Chart 

1 Each Tabletop Instructions 

1 Each Instructional Brochure 

1 Each Tips for the Perfect Nail Brochure
Terms / Disclaimer / Return & Exchange Policy
I'm not affiliated or endorsed by the companies mentioned in this listing. All trademarks and copyrights are acknowledged, they are only used for informative description of the items offered for sale. All items are authentic as evidenced in photos, legally acquired and owned, and hence covered under First Sale Doctrine.
I must, by law, mention that I am not an authorized dealer and have no affiliation with any of the designers/brands that are offered in my auctions and/or listings. All trademarks, brand names and logos mentioned and presented are used for descriptive purposes only and are registered trademarks of their respective owners who reserve the rights of ownership.

The colors you see are for reference only. Buyers are responsible to research actual colors due to possible differences caused by lightning, monitors. On rare occasions, the same color from the same manufacturer may have slight color variance depending on batch.

Please make sure that Paypal and eBay have your address correct. If an item is returned "not deliverable as addressed", you will be required to pay for the reshipment, or I can refund your payment minus the shipping costs. Please be aware that there are restocking fees if you choose to return an item. If you have any issue at all with your item(s), You agree to contact me and give me the opportunity to correct whatever the issue may be before going through eBay or Paypal so that I can make it right. Thank you for taking the time to read this, I appreciate your business!

Return and Exchange Policy:
Due to health and safety reasons, we do not allow returns. Thank you for your cooperation.
Brand new products
Fast shipping with careful packaging
Great prices and ratings
A+ customer service
100% authentic hair, skin, nail supply & makeup/cosmetic brands
---
We also recommend