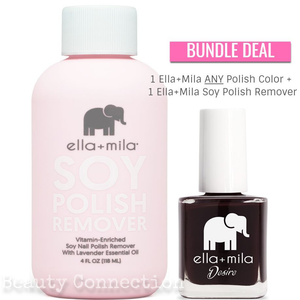 Ella+Mila Bundle Deal: ANY Nail Polish Color + Soy Polish Remover
What you'll get:
1 x your choice of Ella+Mila Nail Color Lacquer Polish (no box)
1 x Ella+Mila Soy Nail Polish Remover 4oz (no box)

Product Description: 
All Ella+Mila polishes are 7-Free! It means that all Ella+Mila polishes are not only made without the 3 common chemicals found in nail polishes (Toluene, Dibutyl Phthalate (DBP), Formaldehyde) but also without 4 other very dangerous chemicals (Formaldehyde Resin, Camphor, TPHP, and Xylene).
• 7-Free
• vegan
• animal cruelty-free
• quick dry
• chip resistant
• made in the USA

Ella+Mila Nail Lacquer Polish Color Options: (send us a message for your color of choice)
beautyconnection.net/collections/nails/products/ella-mila-nail-lacquer-polish
Ella+Mila Soy Nail Polish Remover is a soy-based, vitamin-enriched nail polish remover with lavender essential oil, so just the right amount of TLC for your nails. Unlike most removers, this soy-based remover is free of acetone, meaning no more dry nails and cracked cuticles.
---
We also recommend