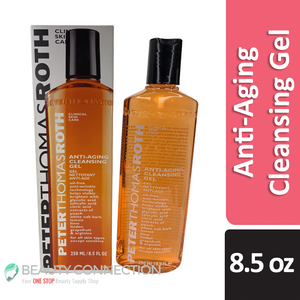 Peter Thomas Roth Anti-Aging Cleansing Gel 8.5 oz
Peter Thomas Roth Anti-Aging Cleansing Gel 8.5 oz
100% Authentic | Brand New | USA Seller
Luxurious, anti-aging facial cleansing gel provides an exhilarating, peachy clean freshness to help produce a beautiful, fresh, youthful-looking complexion. An advanced exfoliating and cleansing action helps diminish the appearance of fine lines, wrinkles and other signs of aging. Ideal for all skin types, including dry, sun-damaged and normal (except sensitive skin). Effectively cleanses, dissolves makeup, emulsifies oil and improves skin texture as it gently helps chemically exfoliate the skin's surface for a brighter looking complexion. Glycolic and Salicylic Acids and brightening botanicals help exfoliate and clarify the skin, leaving it ultra clean, refined and revitalized.
Terms / Disclaimer / Return & Exchange Policy
I'm not affiliated or endorsed by the companies mentioned in this listing. All trademarks and copyrights are acknowledged, they are only used for informative description of the items offered for sale. All items are authentic as evidenced in photos, legally acquired and owned, and hence covered under First Sale Doctrine.
I must, by law, mention that I am not an authorized dealer and have no affiliation with any of the designers/brands that are offered in my auctions and/or listings. All trademarks, brand names and logos mentioned and presented are used for descriptive purposes only and are registered trademarks of their respective owners who reserve the rights of ownership.

The colors you see are for reference only. Buyers are responsible to research actual colors due to possible differences caused by lightning, monitors. On rare occasions, the same color from the same manufacturer may have slight color variance depending on batch.

Please make sure that Paypal and eBay have your address correct. If an item is returned "not deliverable as addressed", you will be required to pay for the reshipment, or I can refund your payment minus the shipping costs. Please be aware that there are restocking fees if you choose to return an item. If you have any issue at all with your item(s), You agree to contact me and give me the opportunity to correct whatever the issue may be before going through eBay or Paypal so that I can make it right. Thank you for taking the time to read this, I appreciate your business!

Return and Exchange Policy:
Due to health and safety reasons, we do not allow returns. Thank you for your cooperation.
Brand new products
Fast shipping with careful packaging
Great prices and ratings
A+ customer service
100% authentic hair, skin, nail supply & makeup/cosmetic brands
---
We also recommend